We offer a variety of resources to encourage, educate, and inspire you!
All books can be ordered by your favorite bookstore, or purchased from most online retailers. Or if you would like an autographed copy (Cost + Shipping), send us a message in the column to the right.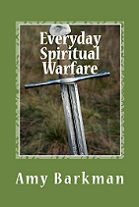 Practical knowledge for victorious living in a fallen world. This wisdom has been shared in workshops, retreats, and sermons in several states over the past few decades. Both new and mature Christians find the material helpful and empowering in their walk with the Lord.
Order this book from your favorite bookstore, or purchase online at Amazon.com, Barnes & Noble, or Books-a-Million.
<div class="zblMedia" id="media_image|3350819" style="background-color: transparent; clear: none; color: rgb(41, 41, 41); float: left; font-family: Arial,Helvetica,sans-serif; font-size: 12px; font-style: normal; font-variant: normal; font-weight: 400; height: 223px; letter-spacing: normal; margin-bottom: 10px; margin-left: 0px; margin-right: 10px; margin-top: 0px; orphans: 2; text-align: left; text-decoration: none; text-indent: 0px; text-transform: none; -webkit-text-stroke-wi